This Weekend: The death of a journalist and birth of a massive Internet partnership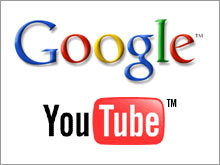 This weekend Google purchased the 2 year old YouTube website from a couple of young male entrepreneurs. At first I was fascinated that these two guys, not much older than me, could make 1.65 billion dollars for posting video feeds onto a website.
Then, I came across an L.A. Times article that compared the shooting death of Russian journalist Anna Politkovskaya in Moscow to the transaction between Google and YouTube. Although these events have nothing to do with one another, the Times made some good points.
"IT IS HARDER TO quash the millions of citizen-journalists armed with photos and videos and blogs than it is to silence a single, bothersome reporter such as Politkovskaya," Susan D. Moeller and Moisés Naím said.
Moeller and Naim also said, "YouTube, Google, Flickr and many other websites offer valuable tools for keeping the world informed. But they are not a substitute for Politkovskaya and her colleagues."
So this weekend, a famous journalist died, and massive media Internet coagulation was born.
Click here for the L.A. Times article